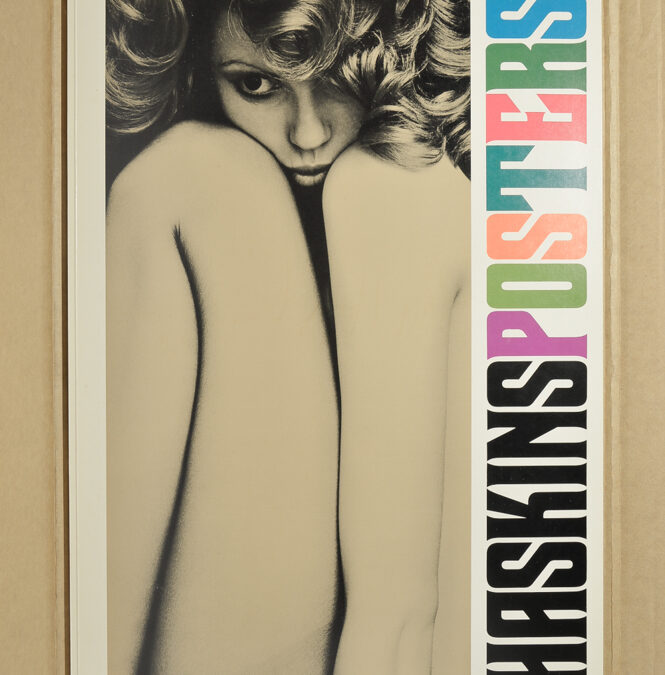 Sam Haskins: 'Haskins Posters' (signed in publishers original folder) [£395.00]
"This is a collection of unrelated images bound together in book form. It is a product of, and is immersed in, the idiom of the late sixties. My studio was near the King's road in Chelsea, the focal point of Swinging London. Those were informal times. Friends calling at the studio to say hello frequently found themselves in front of a camera collaborating in the experiment of the moment. The pictures were embraced by a wide ranging audience. The Flower People decorated their lofts with them and the New York Art Directors Club honoured the publication with their Gold Award." Sam Haskins.
First edition 1972 book of mini posters designed and photographed by Sam Haskins and printed in Switzerland by Lichdruck AG for Sam Haskins. It contains 31 attached posters in an elephant folio book form. This book is signed boldly by Haskins on the inside cover "Sam Haskins '81" and is in amazing 'as new' condition having been stored in its original publishers cardboard folder since purchase and looks like it has virtually never been looked at – sharp and tight with no loose leaves and only minimal signs of wear from being transported in the folder itself and opened to sign. A rare find in this condition and also signed, probably the best you will ever find it. Comes with a an interesting copy of the 'The Daily Telegraph Magazine' from October 1972 when the book came out, which contains the article "The Apple of Sam's Eye" discussing his work and his latest book of Posters, with an amazing reader offer to purchase the book at a pre-publication price of £4.50!!